PREPARATION OF TRIPHALA CHURNA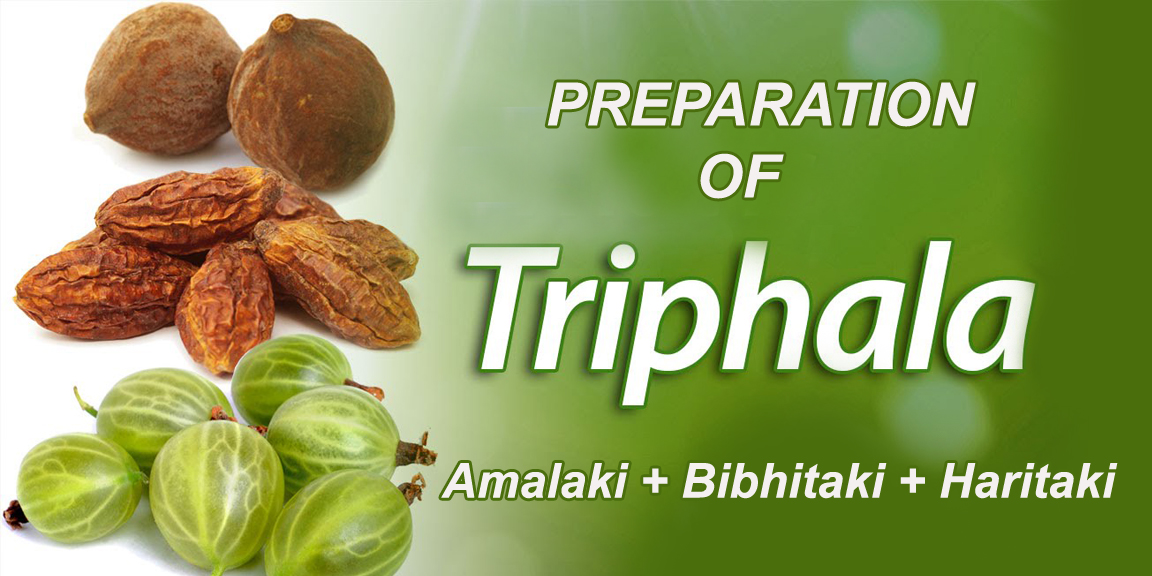 Introduction to Triphala
In Ayurveda, Triphala is a combinatio of three fruits named Harad, Baheda and Amla. All these herbs taken in a defined ration to produce Triphala powder. It is good for Vata dosha(Haritaki), Kabha dosha(Bibhitaki) and Pitta dosha(Amalaki).
Ingredients of Triphala Churna.
| | |
| --- | --- |
| Name of Ingredients | Quantity |
| Harad or Haritaki | 100 gm |
| Baheda or Bibhitaki | 200 gm |
| Amla or Amalaki | 400 gm |
Botanical Name and Family name
| | | |
| --- | --- | --- |
| Name of herb | Botanical name | Family name |
| Amalaki | Phyllanthus emblica | Phyllanthaceae |
| Bibhitaki | Terminalia bellirica | Combretaceae |
| Haritaki | Terminalia chebula | Combretaceae |
Preparation:
For the preparation of Triphala the ingredients must be taken in the order 1:2:4 and cannot be used in raw. It must be dried in sunlight and make it crispy. Store it in a air tight container.When it dried it become hard, so we cannot gring it directly. For that we use some Desi Ghee. Take a pan and put a small amount of Desi Ghee in it. Add all these ingredients in to it. Desi Ghee will make it soft and also it will swell in size. Rost it in a medium flame for 5 minutes. Let it be cool and gring it well and stire it. Triphala powder is ready.
Benefits of Triphala Churna
Boost up the digestion
Good for costipation.
Improves the groeth of hair.
Good for fungal infections.
Reduce the blood sugur leavel.
Reduce the body weight.
Good for eye.
Note: Take warm water in a glass and add 1 tbsp of triphala powder and drink it before go to bed. This is a good remedy for almost all problems in our body.