PREPARATION OF AYURVEDIC HERBAL SHAMPOO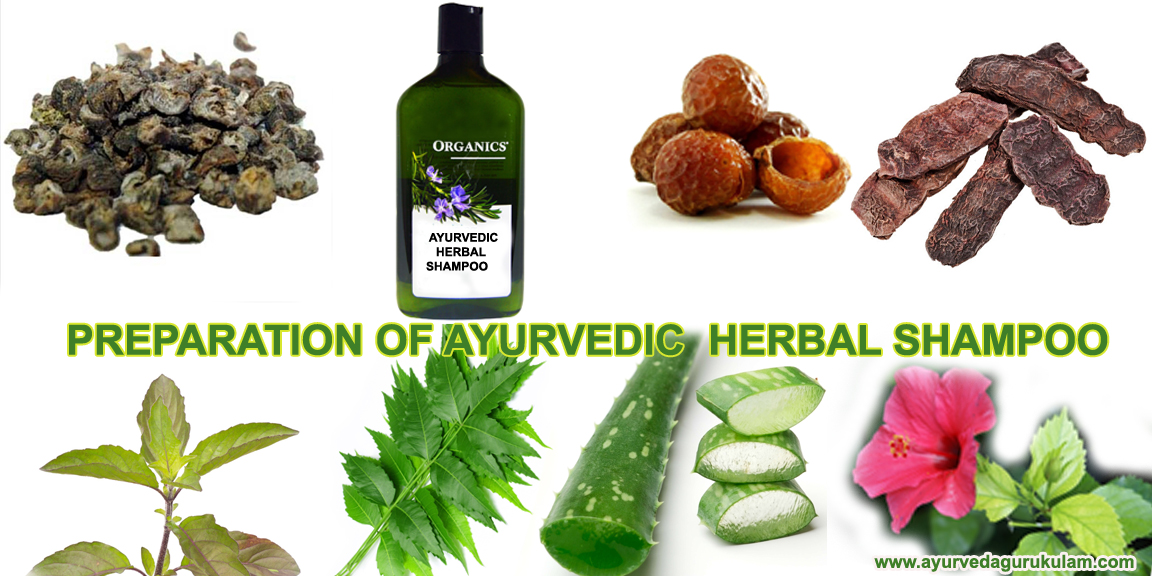 Today, lots of shampoos are available in market. But if we use it daily it will be harmful for our hair.By using Ayurvedic herbs, we can prepare Ayurvedic herbal shampoo. We can safely use this in alternate days without any side effects. All the ingredients used here have some medicinal values and it reduces hairfall, also give relazation to head.
INGREDIENTS AND ITS MEDICINAL VALUES
| | |
| --- | --- |
| Herbs | Quantity |
| Shikakai | 25 grams |
| Soap Nuts (Reetha) | 25 grams |
| Dried Amla | 25 grams |
| Tulsi Leaf | A bunch |
| Hibiscus leaf | A bunch |
| Neem Leaf | A bunch |
| Aloe Vera Gel | Few pieces |
The pod of Shikakai is good for skin diseases. So it is a good remedy for dandruff.
Botanical name: Acacia sinuata (Lour.), A.concinna DC.
Family: Mimosaceae
Soap nuts is a good cleaning agent. It contain natural surfactants named "saponins" is a mild cleaning agent. So it can be use to clean your hair without any side effect.
Botanical name:Sapindus Mukorossi.
Family:Lychee
It prevents the hair from greying and also it promotes hair growth and give a cooling effect to our head.
Botanical name: Phyllanthus emblica
Family: Phyllanthaceae
Tulsi is used for preventing cough and head ache. This is used here because sometimes Amla causes these sort of diseases.For preventing this we nadd Tulsi leaves.
Botanical name: Ocimum tenuiflorum
Family: Mints
It is a natural conditioner for hair and also reduces hairfall.
Botanical name: Hibiscus laevis
Family: Mallows
Neem leaves has anti-bacterial property which helps to reduce hairfall issues and dandruff.
Botanical name: Azadirachta indica
Family: Mahogany
It is a natural conditioner for hair and also reduces hairfall.
Botanical name: Aloe Barbadensis, Aloe Indica, Aloe Barbados, Aloe Vera
Family: Asphodelaceae
PREPARATION
Take a bowl and add Shikakai, Soap nuts, Dried Amala. Soak in in 1.2 liters of water all over the night. In the morning, it becomes a black colour liquid. Put that liquid in a pressure cooker and let it go for three to four whistles. Remove the seeds from the soap nuts. Now we have prepare the extraction of leaves and Aloe Vera gel. For that take a pan and boil 250 ml of water. Add Tulsi leaves, Neem leaves, Hibiscus leaves and Aloe Vera Gel. Boil it well and add this extraction with the Shikakai mixture. Blend this mixture very well. Strain the shampoo twise using a fine filter. Let it be cool and store it in a glass bottle.