NETRA TARPAN- AYURVEDIC EYES REJUVENATION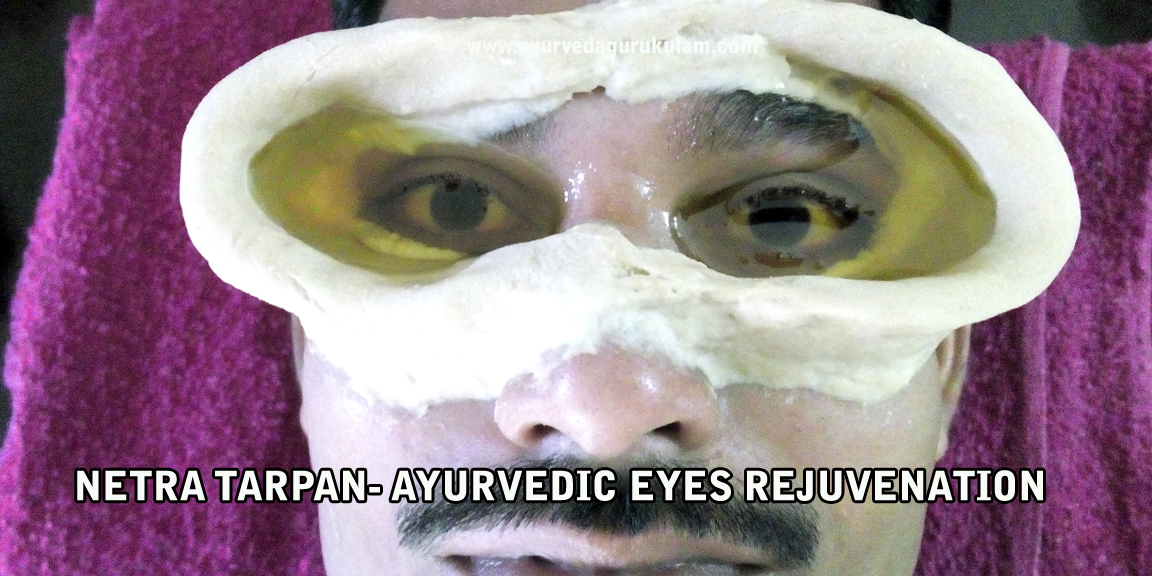 Eye is the most important and sensitive organ in our body. Use of computer and the stress and strain of today's life cause some disorders in the health of eye. Netra Tarpan is the procedure of nourishes the eyes using Ayurvedic herbs. It is also known as Akshi Tarpan. Some of the benefits of this treatment are Nayane Tamyati, Abhisyanda,Vata pittaja roga, Abhighata, Netra shushkata, Arjuna etc..
PROCEDURE
The treatment procedure of Netra Tarpan is divided in to three parts:
Purva Karma
Pradhana Karma
Pashyat Karma
Purva Karma
Before starting the procedure the patient must be examined to check the basic constitution and the details of morbidity. The medicated gritha are selected based on the physical condition of the patient and the sensitivity of the diseases.
Pradhana Karma
The person is made to lie on the droni and the gram flour is placed around both the eyes. While placing the dough make sure that the oil will not spread out from the dough. The luke warm medicated gritha is poured in to it and made to stay for at least five minutes, then squeezed out and replaced with warm medicated gritha. This procedure is repeated for 25 minutes.
Pashyat Karma
After the treatment is over oil is removed from the eyes along with the dough and a gentle Abhyanga is done. The patient must give rest for some time after the procedure.