MEDICINAL VALUES OF CURRY LEAVES IN AYURVEDA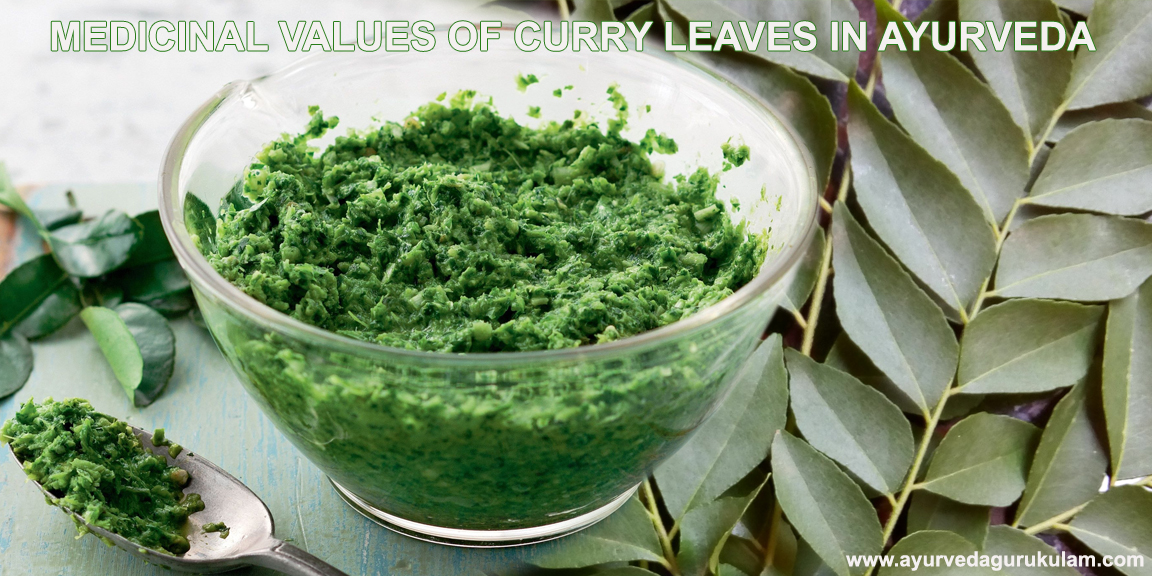 Curry Leaves have a lot of medicinal values as well as it is used to provide flavor to our food. Curry leaves are rich with carbohydrates, energy, fiber, calcium, phosphorous, iron, copper, and minerals and various vitamins like vitamin A, vitamin B, vitamin C, vitamin E, antioxidants, plant sterols, amino acids, glycosides, and flavonoids.
Botanical Name: Murraya koenigii
Family Name: Rutaceae
Consume curry leaves for a month and this will give you below benefits.
Protect your liver from damage
It has an effective anti-oxidative property and contains Vitamin A and C. This protect the liver but also simulating the organ to work more efficiently.
Maintains your blood sugar.
Sugar level increases due to the slowdown producing of insulin. It will increase the production of insulin.
Protect you from heart diseases
It is packed with antioxidants. So it reduces the cholesterol level in blood in that way it reduces the chances of heart diseases.
In Ayurveda, curry leaves has mild laxative properties helps the stomach get rid of unwanted waste.
Can reduce the side effect of chemotherapy
The amazing property of curry leaves will protects the chromosomes from damage but also protects the bone marrow and halts the production of free radicals in the body.
Prevents skin infections.
The antioxidant and antifungal property of curry leaves reduces the skin infections.
It fights against dandruff, strengthens the hair and increases the growth of hair.