HAIR LOSS CAUSES AND PREPARATION OF AYURVEDIC HAIR OIL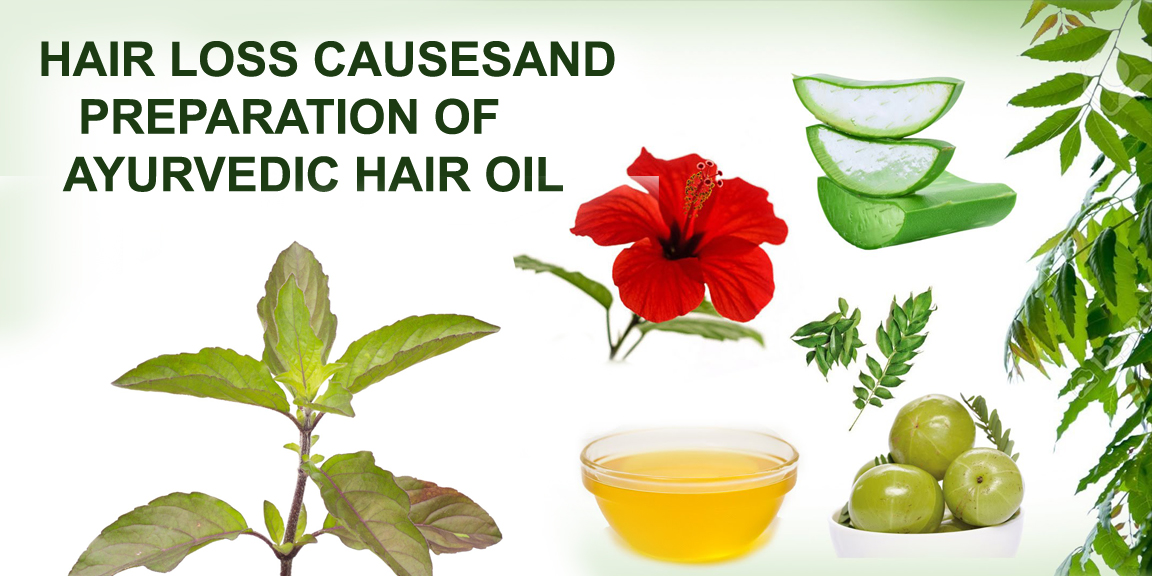 Normally a few number of hair will fall from our head. This is not at all a problem. Hair fall is phenomenon where the hair falls in an abnormal way and new hairs are not growing in that area. Most hair problems are due to pitta dosha. Apart from pitta dosha, other reasons for hair fall are stress, digestion problem, headache, dandruff or fungal infections etc. In Ayurveda, a lot of herbs are there for reducing hair fall.
Here I am going to explain the preparation of Ayurvedic hair oil which is good for dandruff and hair fall. For that we need Aloe Vera gel, Neem leaves, Tulsi leaves, Fenugreek seeds, pepper, Sesame oil and Lemon juice or Orange peel.
Measurement (One cup – 250 ml)
| | |
| --- | --- |
| Herbs | Measurement |
| Aloe Vera | ¼ cup |
| Neem Leaves | A bunch |
| Tulsi Leaves | A bunch |
| Fenugreek Seeds | ¼ cup |
| Pepper | 1/8 cup |
| Sesame oil | 250 ml |
| Coconut oil | 250 ml |
Preparation
Take a kadai and heat it. One thing must be very careful is to put the flame of the gas stove in low mode. After heat it adds Fenugreek seeds Sesame oil and Coconut oil. When it becomes heat add other ingredients like Tulsi leaves, Neem leaves, Black pepper and Aloe Vera gel. When the leaves form crispy add Orange peel. After some time the bubbles of oil becomes disappear. This is the correct consistency. Switch off the flame and allow the oil to be cool. Strain it and keep it in a container.
This is a very good oil for dandruff and hair fall. Apply the oil in your scalp and wait for a minimum of 20 minutes. Repeat it three times in a week. One important thing related to the application of hair oil is to apply it in the morning for better results.