Dhanwantharam thaila – the fortifier for mind and body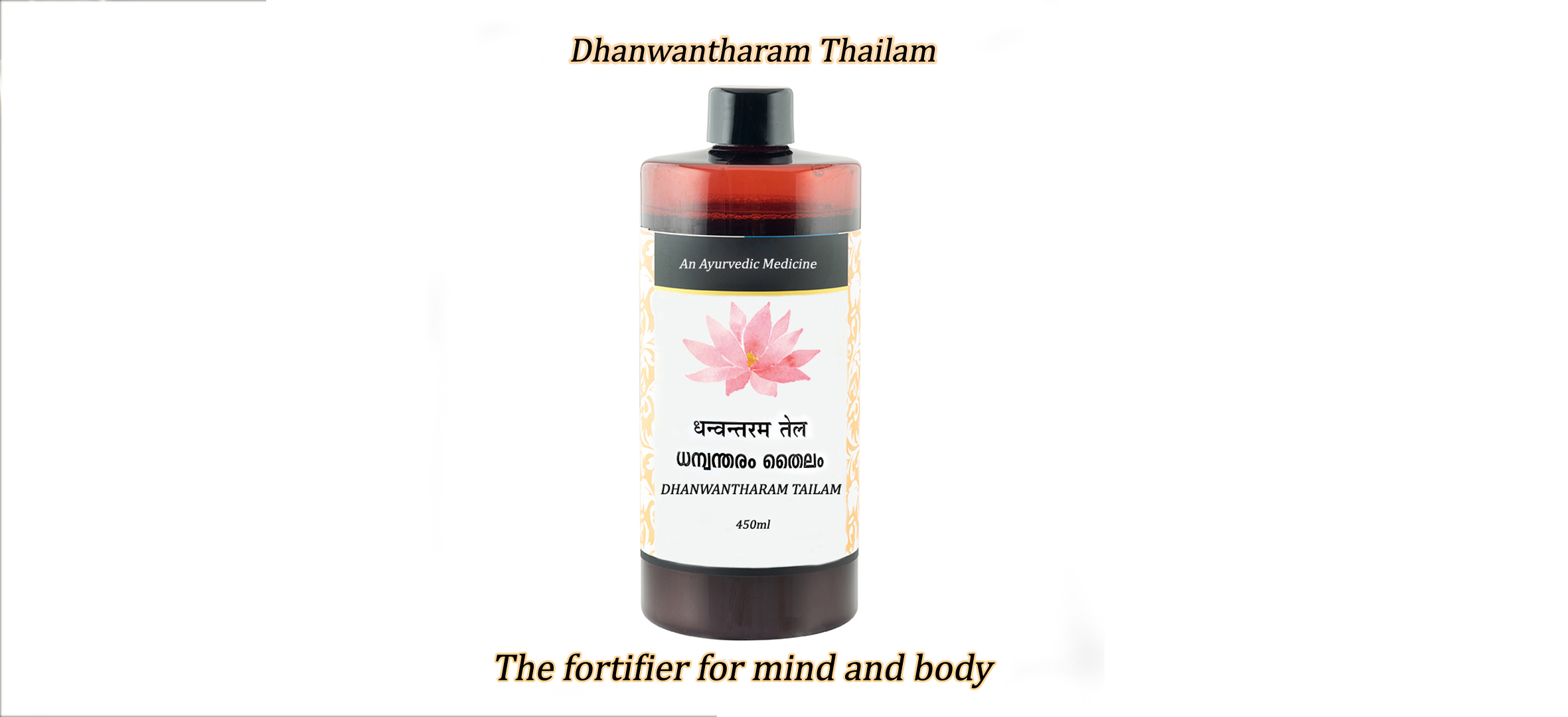 Dhanwantharam thaila is one of the commonest traditional Ayurveda oil which is mostly used in Kerala Ayurveda practices. It imparts physical and mental endurance as it is not only elevating your strength but also your confidence. Yes, it is an anti stress oil.
This efficient thaila has its main action on your muscle and bone tissues and is embedded with a lot of Vata pacifying ingredients. It consists of more than 40 ingredients processed in sesame oil. The cumulative effect of these eminent ingredients makes our medicated oil well advisable in any disorders affecting muscle, bones, ligament, tendons, joints and any other connective tissue in human body.
Dhanwantharam thaila is a great Nervine tonic having neuro protective action which enables it to act in paralysis and all wasting disorders.
As its main applicability is on musculoskeletal system, dhanwantharam thaila is also beneficial in pain and numbness disorders like spondylosis, arthritis back ache etc. If you try to list out the medicinal properties of dhanwantharam thaila, it will be long starting from neuroprotective action, anti arthritic, analgesic, antispasmodic, antioxidant, adaptogenic and so on.
This rejuvenating oil can be used for head massage, body massage, foot massage and even for an internal usage. Even you can use this oil daily for oil massage, as Ayurveda advises to do oil massage as your daily routine.
Never have a feel that it is just a pain relief oil, it can do beyond. Dhanwantharam thaila is considered to be the elixir in pregnancy and postpartum care. It eases your delivery and gifts you with enough strength in postpartum.
It's efficacy makes dhanwantharam thaila, a sovereign remedy for all VATA related disorders in human system.
One can choose dhanwantharam thaila without any confusion, as no absolute contraindications and adverse reactions are noted till date.
Yes, dhanwantharam thaila is a blessing from Lord Dhanwanthari, The God of Ayurveda.