Are wrinkles bothering you? Do you feel you age faster? Fix it with Ayurveda…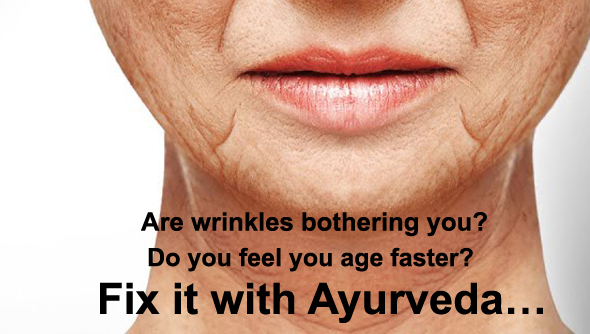 "Wrinkles mean you laughed, grey hairs mean you cared and scars mean you lived". These inspirational quotes would seem nice as morning messages on Facebook and WhatsApp but not in reality. When you stand in front of mirror you might have dreamt for a clear and smooth skin. Don't feel embarrassed because it's natural. You stay young on the inside but your skin can't tell it anymore.
Each year we spend lots of money on cosmetic products to prevent skin from aging. Keeping the skin away from aging can't be achieved just with skin creams. Analysing your skin type, learning your diet specifications and cleansing helps to achieve your goal faster.
Keep in mind, aging is inevitable but you can definitely postpone it or make your old age a better one. It won't be the right time to think about old age in your late 60s, one should start before.
Nowadays Google is considered to be the best trusted doctor for everyone. If you ask it, it will give you a thousand of opinions. Sunscreens, hydration, moisturizing, exfoliation….. Oh, the list is indefinite. And do you think, will it be possible to do everything in your life time?
Here comes the magic of Ayurveda. Through its well tabulated daily regimen ( Dinacharya), it gives you clear picture how to fight with aging process. Hydration sunscreen & moisturizing, all these multifaceted points are integrated to a single formula in Ayurveda. We call it – 'Abhyanga' ( oil massage).
Abhyanga is been used as an preventive measure as well as a curative. Know your skin type, formulate suitable oil and start massaging. It calms your mind, brightens your skin, sweeps away your wrinkles and enhance your life expectancy.
It won't be flattering , if somebody says you are actually 60 but skin says you are just 16...
Heal your body and mind through Ayurveda..