IMPACT OF 6 FLAVOURS ON YOUR HEALTH ACCORDING TO AYURVEDA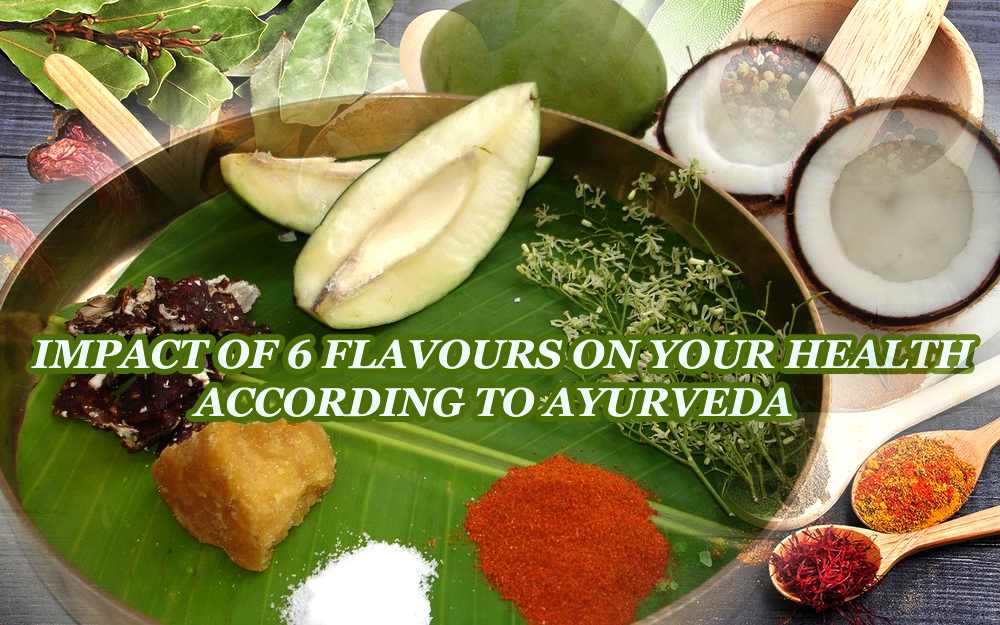 IMPACT OF 6 FLAVOURS ON YOUR HEALTH ACCORDING TO AYURVEDA
According to Ayurveda the taste perceived are 6 namely
Sweet
Sour
Salty
Pungent
Bitter
Astringent.
SWEET TASTE
Forms a coating in mouth
Brings delight to body
Refreshes body
Provide strength to body
Voice clarity
Adapted to right from birth
Good for children, old, chest injuries
SOUR TASTE
Cleans up mouth
Causes horripilation
Makes the teeth sensitive
Bring sudden contraction of eyes and eyebrows
Improves Digestion
SALTY TASTE
Watering of mouth
Burning sensation of cheeks and throat
Destroys binding and consolidation
Helps improve digestion
PUNGENT TASTE
Quivering of tip of tongue
Watering from eyes, nose and mouth
Sensation of cheek
Cures throat alignment
Thirst, loss of strength and libido if in excess
BITTER TASTE
Cleans the mouth
Inhibits sensation of taste
By itself not tasty
Cures loss of appetite, worms, thirst, toxicity, skin ailments, fainting, fever, burning sensation
Promotes intellect, purifies breast-milk.
ASTRINGENT TASTE
Make the tongue inert and constricts the throat.
Helps purify blood
Promotes healing and is constipative in nature
It's a good skin tonic.